Just What's All the Hype About How to Become an Affiliate Marketer
Did you know every time we use our computers, tablets or smartphones to search the worldwide web there is someone making money as a result?
And to think, this is by just one company out of hundreds that at least earn over a billion a year.
So, when I finally woke up to apprehend the enormous potential of making money online I couldn't restrain my enthusiasm.
Why?
Because, out of 7,716,223,209 billion people on earth as of 3/31/2019, there are 4,383,810,342 billion using the internet.
And you know what? The good news is that the outlook for the near future shows no slowing in sight.
Therefore, with so many people using the internet to buy and sell all forms of goods, services and more, 
How Could We Get A Piece Of The Pie?
And, Where Do One Start? 
I, for one as I recall, dove in headfirst into the world wide web with no reservations whatsoever.
However, only to discover, what seemed so easy was mass chaos in disguise.
The search for the right Affiliate Marketing Program or in short Affiliate Program was not the problem (more to be explained below).
The problem was how to get an Online Business or Website operational and running at no cost or if not at least at the fairest or cheapest cost possible was the challenge.
The most important point for all newbies and beginners pursuing the Affiliate Marketing must realize is the initiative required for implementing an Affiliate Marketing Program.
In short, you newbies and beginners need to know you first need a Website, Domain Name and Hosting just to get started. I will be more thorough as we continue.
Where Does It All Begin
So, let me pick up where I left off, I was totally new to the Online Business and the Affiliate Marketing world.
I had no clue whatsoever and had no idea where to start.
Therefore, thinking that the major online/internet companies will have all the answers to all of my questions, I started with them first.
Sadly to say, what I've learned was very little from the major online/internet companies. Though instead, what little I did learn initially came from the third-party links.
I thought, at the time, this third-party was an employee who was representing the major online/internet company.
I was convinced the videos I was watching and the contents I was reading came directly from the major online retailer themselves.
However the more I watched and the more I read, I realized these third-parties represented themselves and not the major companies.
I soon then realized that the major online/internet companies offered only the Affiliate Programs.
And, failed to mention they did not provide the basic training on how to get a website started.
In short, I could not utilize their Affiliate Programs without having my Own Website.
What Do I Do Now
As a newbie, I had to first learn the basics but unfortunately, most of the countless data-filled searches led me nowhere. And what information I was able to decipher and gather, only led me to more confusion and frustration.
As a result, I was overwhelmed by the endless sea of information which I couldn't piece together to make any sense.
I grew desperate in finding a simple and clear cut method of which could guide me step-by-step.
Someone or something that could lead me through the stages from the basics and then on to the advanced.
All I hoped to acquire it for free or at worst not cost me a fortune.
Yet again, search after search, it led and left me more confused and engulfed me with too much data and unanswered questions.
Warning! If It Sounds Too Good To Be True Chances Are It's A Lie
A brief word of caution.
Overwhelmed with too much data I couldn't escape the temptations that lied within the worldwide web.
Bewildered and frustrated in the search for the right source, I eventually fell victim to the Scammers and Liars.
These Scammers were and still, today are professionals and experts in the trade of scamming and lying.
They lured me with promises of SUCCESS in becoming an Affiliate Marketer, Internet Entrepreneur, Making Money Online,  Make Money Working From or At Home, etc…
Next thing I knew they had me hooked with their assurances of Getting-Rich-Quick and then having committed, I lost all my sense of direction.
They had me under their control and I became their live easy bait.
Holding me under their restraint, all the promises, agreements and commitments they insured were no longer honored and soon forgotten as if it did not exist.
With no mercy, these Scammers and Liars try to charge me for everything, including the simple questions that I asked.
Then it was followed by the hidden fees and upsells which were set in place in their outdated and useless products and programs.
They soon had me going around in circles manipulating and cornering me in an attempt to have me spend even more money.
Regrettably, by the time I've learned it was a scam, they made it extremely difficult and in most cases impossible to cancel.
A word of advice. Be very careful in this world we live in, where the term Business to some people means Taking Advantage Every Way Possible.
To read more in detail about avoiding scams, click here.
Having said that, let's continue from where I left off and start by making some sense of this Affiliate Marketing.
So first, just what is Affiliate Marketing? The Sale or the Process that Leads to a Sale of a company's product(s) or service(s) for a commission through an Affiliate Marketing Program or Affiliate Program. Affiliates (me/you) would sign up (Affiliate Program) with a company to sell and/or lead customer/visitor to the online/internet company's website.
In Laymen's term:
You have a website, you add the link(s) or banner(s) for the company you've signed up with.
Visitors to Your Website, if interested, click on the link(s) or banner(s) to purchase or take action for the product(s) or service(s).
The visitors now are sent or led to the company's website as a Lead or to complete the Sale.
Resulting in the commission to be paid out to you for the Sale or Payment for the Lead.
Hopefully, you now have a basic understanding.
Now to be more thorough and have you better prepared to what to expect, here are all that you may or would need in becoming an Affiliate Marketer.
Depending on your specific use of your website more may be needed which are not listed below.
Website
Domain name
Web Hosting
Training, Support, and Guidance
Search Engine Optimization
Software set-up and maintenance
Continued Website Maintenance
Business Email Address
SSL: Secure Sockets Layer
Merchants Account
Autoresponder
Media, Video, and Audio for website
Keyword research
Copywriting
Grammar check/ Editor
Advertisement: i.e. Pay Per Click (PPC)
Marketing Your Website Online
More on the Training Lessons and Costs Incurred for Online Business Click Here.
Now What?  What's Next? 
Well, the first thing to do is to focus on your website.
1) You could start by hiring a professional to complete all your work associated with your Website and pay several thousand.
Or, 2) you could try to do everything yourself for Free.
Or, 3) do a combination of both, hopefully at the fairest and if possible cheapest cost as feasible or in a simple term: Best value for your money.
However regardless, if you do it yourself, do a combination or paid thousands for a professional website (professional service).
What comes NEXT?
Now possessing your website what are you going to do with your website?
As mentioned above, you may think now I have the website I could add the Affiliate Marketing Program to the website and that's true.
But what good is it if you have no one visiting the website.
It's like having a store although no one is coming to your store because they can't find the store.
And yet worse, in addition, they not finding your store, you realize your store is completely empty.
And still, even worse, what if they do find your store just to see it completely empty.
These were the basics and the fundamentals I had to learn and cope with in the beginning.
Furthermore without having to spend a fortune of my money, wasting valuable time and receiving the best education.
All this from hopefully the right source that can be Trusted which is the most important of all.
As you can see from my experience, I had to find out and learn through little bits and pieces and by trial and error.
It was very frustrating at the time especially dealing with the Scammers and Liars.
However, through these experiences, I was able to understand and find the most cost-effective way. The best value for the money.
As a result, I was able to find a genuine source.
What Can You Expect
This source helped me step-by-step in guiding me with my Website, Domain name, and Hosting setup.
Overseen and instructed me through training lessons and by teaching me how to properly implement the Affiliate Marketing Program to my Website.
Furthermore, through their training lessons and live support, they helped me to hone my skills in creating a stream of traffic or visitors to my site.
Now with my hard work and commitment backed up with the support, help and the resources provided by them, I can finally say I'm getting the fairest cost possible in building my Online Business as an Affiliate Marketer.
I now can truly say I'm getting the best bang (excitement) for my buck (money).
Simply, if you're interested in starting your Online Business as an Affiliate Marketer and want to save yourself the trouble, hassle, aggravation, heartache, etc..
Then take advantage of my experience and make it a benefit for you.
And start your Online Business venture with one of the most trusted and respected community on the world wide web.
We'll be more than happy if you come and join us.
However, please be advised this is not a get-rich-quick scheme and much of your time and effort is needed. If you're expecting to make money quickly in weeks or even months as a beginner this is not the place for you.
I don't want to give you the impression you'll earn money right away because there's a step-by-step learning order.
Yet, the good news is you have that control of the step-by-step order, how quickly or slowly you learn is up to you.
With that being said, here's how you can start.
But first, (Please note, for MOST  if not ALL of the locations in Bangladesh, Egypt, Ghana, India, Kenya, Morocco, Nigeria, Pakistan, Philippines, and Vietnam. There's only the Premium Membership and NO FREE Starter Membership.) 
Oh, one other thing I left out.
There is a Free Starter Membership and we don't ask you for a credit card or personal information when you join.
Here's some more important information you should know before you decide.
Free Training Lessons
Instant Help and Support
2 Free Websites
Free Starter Membership
No Credit Card
No Personal Information Asked
Start by building a strong foundation for your Online Business by utilizing our Free Training Lessons (Basic).
Designed to walk you through step-by-step. You dictate the pace. Learn at your pace.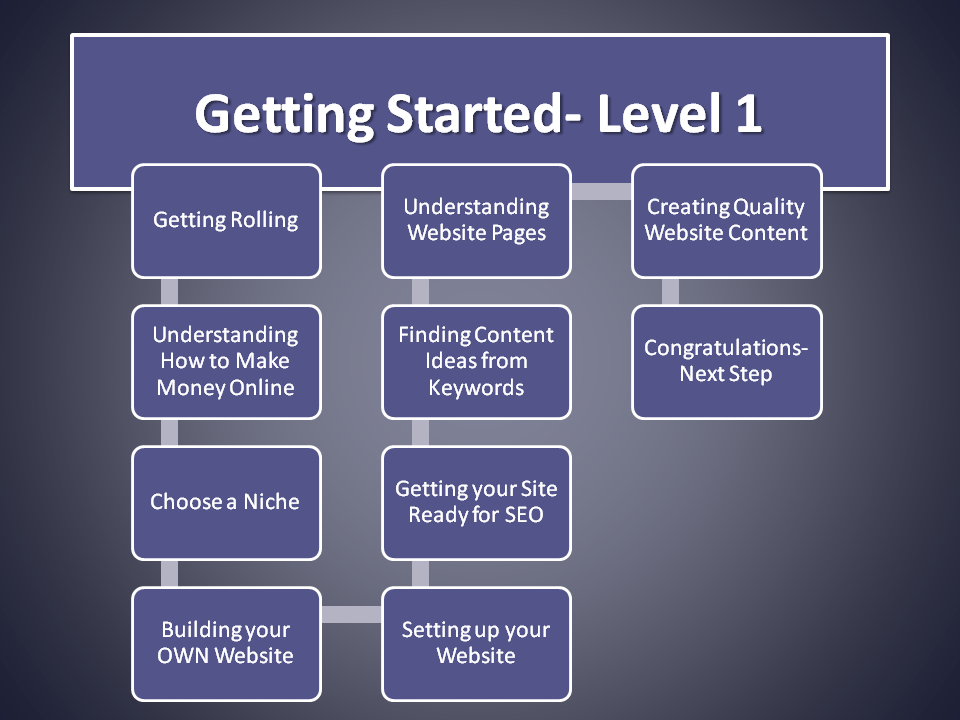 Once you complete your Free Training Lessons (Free Starter Membership) then you can decide if the Paid Membership (Premium Membership) which costs $49.00 monthly is for you.
Here is a comparison of our Free Starter Membership (basic) -VS- Premium Membership (Advanced).

Save even more money by becoming a Yearly Member for $359.00 US dollars. Which works out to $29.92 per month. $359.00 divided by 12 = $29.9166 to be exact.
This works out to be a savings of $19.0834 per month from the $49.00 monthly payment.
If you agree this to be the best value for your money, click on the banners above and start your Online Business with the Most Trusted and Respected community.
If you need an in-depth explanation of the Training Lessons and Costs associated with Starting an Online/Internet Business/Website, click here.
AND/OR
For additional information about Wealthy Affiliate and the Education, Websites, Hosting, Domains, Community and Success Stories, Click Here.
Start for Free with our Free Starter Membership to see if the Online Business would for You.
Become your Boss and Work for Yourself.
I really want to thank you for sharing your time with me and looking forward to seeing you around.
If you can please leave me a comment or a question. I'll be more than happy to hear from you.
Here's to your Massive Success.
Jason